A native Charlottean visits the longtime local favorite for the first time
March 10, 2020 | Charlotte magazine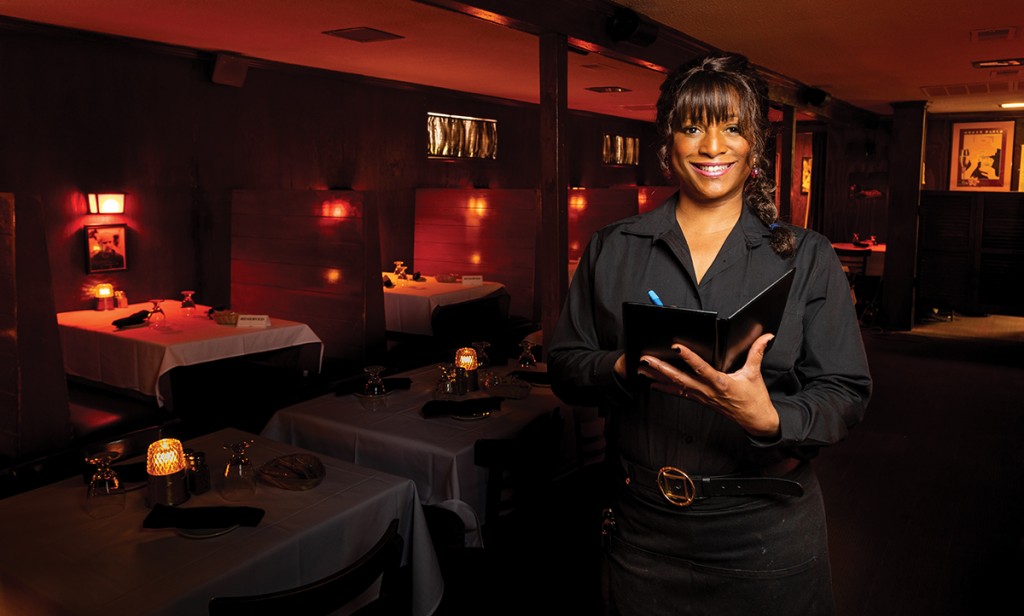 In 1958, the U.S. was toe-deep in the Space Race. Ike was serving his second term. Golf great Arnold Palmer had earned his first green jacket, and "At The Hop" rocked the transistor radio waves. The same year, in Charlotte, the first steaks sizzled at one of the city's most legendary restaurants.
Beef 'N Bottle is a Queen City staple, a standalone steak joint with the vibe of a '60s cigar club. Before my husband and I enter, we smell summer: ribeyes sizzling on the grill—a solid start. "I've been coming here for 45 years," says a portly man in the parking lot. I've lived in Charlotte since 1982, and this is my first time.
In the compact foyer, black-and-white portraits of Hollywood greats hang on the walls. Elvis near Elizabeth Taylor. Ava Gardner, sultry, by a pensive Katharine Hepburn. Giants from a bygone era. The classics, they never die.
A casually dressed older couple sits across from us at a table next to a large family celebrating a birthday. A few younger couples, dressed a bit more elegantly, walk in and take seats in booths. Next to them, a man date—two good ol' boys out on the town, sipping drinks as they await their steaks.
Benita is our waitress. She's a sturdy woman with a commanding warmth. I tell her I've never been to the restaurant before. "Never?" she says with high-pitched surprise. "Well, you're in for a treat."
Each steak ages in house for 21 to 28 days, she says, and the salad dressings are homemade, too. Tonight's special is the Delmonico, a 12-ounce ribeye—with shrimp.
At our corner booth next to the kitchen, white linen tablecloths and napkins set off dark wood paneling. Appetizers reflect the same affection for contrast: onion rings with escargot, plus seafood starters from shrimp cocktail to Gulf oysters and homemade clam chowder. Entrees include chicken, large salads, and pastas, plus a slew of steak combos. Lobster tail, shrimp, scallops, and oysters can accompany any filet.
Benita's back. We're considering frog legs to start. An order of two comes fried or sautéed. "The fried ones just taste like chicken wings," Benita says. "Sautéed is the way to go." After asking where they're sourced (Vietnam), we opt for Benita's way. They arrive in an oval-shaped dish, swimming in an oil-based blend of sage, garlic, and other spices to cut the wild flavor. "Paprika gives it that red color," Benita says. The portion is larger than I'd expected, and though the flavor is good, I'm ready for the main event.
I struggled to describe the way I want my Delmonico, medium-rare-ish, but not too red or too pink. "Medium-rare plus," Benita said when I ordered. Yes. And topped with a signature onion ring, my Delmonico is cooked perfectly, which isn't always the case in steak houses.
Walking back to the car, I recall the online reviewer who had a two-hour afternoon layover at the airport "but stayed overnight [to eat] at Beef 'N Bottle." That seemed extreme before tonight. Now I understand.